The 2022 Wagoneer Interior Is Here To Amaze

Are you looking for more info on the Wagoneer model? We don't blame you. This futuristic and highly-capable utility vehicle (UV) is about to blow the luxury competition away. Let's say it's had more than just a slight "glow up" since the original model was released in the 1980s. The 2022 Wagoneer interior is so heavily loaded with technology, high-quality materials, and features - you may never want to leave your vehicle. The new Wagoneer interior dimensions are bigger than ever given the fact that it is a three-row SUV. The new Wagoneer seating is lush, comfortable, and top-of-the-line. But this car has upped its game in far more ways than seating capacity. Hold on tight as we go over the innovative and legendary new 2022 Wagoneer interior styling and features.
Let's Talk Style
First, let's cover the basics. With seating for up to seven passengers, the new Wagoneer model will include front and second-row captain's chairs to go along with a third-row bench. Every single person will enjoy ample legroom, amenities, storage compartments, and seats that could be seen as "too comfortable." Each seat has a diamond pattern down the middle to go with diamond tips on the piping.
You may be thinking, what about the wood-styling from the original? While the brand designers did incorporate some elements from the original Wagoneer model, such as the two-spoke steering wheel, most of the wood seen on the older models' exterior is now seen on the inside as a beautiful design detail. The 2022 Wagoneer interior is covered in lacewood. There is lacewood on the instrument panel, front doors, 3D inlays, and more. In the wood in front of the passenger, "Grand Wagoneer" is inscribed in aluminum. You will even see the "EST. 1963" inscription on the outer edge of the instrument panel on the driver's door to pay homage to the first model year of the original Wagoneer model.
But there are new details on the 2022 Wagoneer interior that drivers in 1963 couldn't even dream of. Overhead you'll find sustainable suede that's used to make the headliner. It's made of Dinamica, which is a recyclable microfiber. The instrument panel is made in a black glass canopy. The overall design is made to help blast the Wagoneer brand into a bigger and more luxurious market. You will feel like a King or Queen, especially when you change the customizable ambient mood lighting that is offered inside the 2022 Wagoneer interior.
The 2022 Grand Wagoneer Interior Specs & Tech
Sure, the design is beautiful. But wait until you see what futuristic technology this car is loaded with. There are a whopping 44 inches of screens throughout the instrument panel and digital cockpit that are thoughtfully integrated into the black glass casing. You'll get a 12.3" driver cockpit display, a 12.1" infotainment touchscreen in the center, and an additional 10.3" touchscreen below that one for things like temperature and seating adjustments. You can also move the bottom screen to reveal hidden storage inside your 2022 Wagoneer interior.
Didn't think it could get better? Just you wait. Your passengers will no longer dare to ask you, "Are we there yet?" There is a 10.3" front passenger touch screen with privacy film to protect the driver from getting distracted on the road. Oh, and the Wagoneer brand didn't forget about the people in the back either. Second-row riders will also have individual entertainment screens. There can't be more, right? Wrong. An additional third screen in the second row allows for back-seat passengers to access comfort controls like heating, cooling, ventilation, and massage. How long of a drive you're going on is no longer a worry. Now, you'll all be bummed to get to your destination because you won't want to leave the vehicle!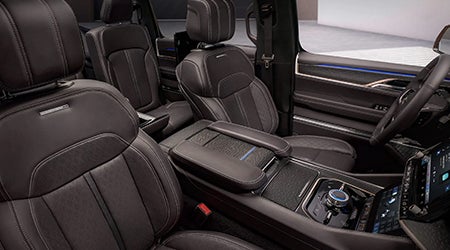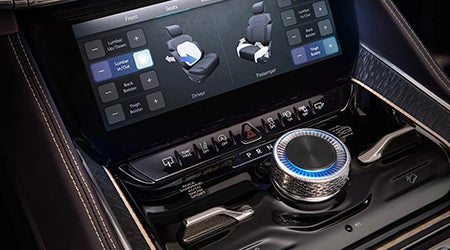 All the infotainment is powered by Fiat Chrysler Automobiles' (FCA) Uconnect 5 system. According to FCA, this system is supposed to be five times faster than previous ones. You can customize it. We think you'll like the "relax" mode that offers an image of a crackling fireplace. As far as the sound system goes, the brand partnered with audio giant McIntosh. Your car will have a beat-pumping 23 speakers that are covered in aluminum and gloss black. The system is connected to a 24-channel amplifier.
They say it's what's on the inside that counts, right? We think the minds behind the 2022 Wagoneer interior took that very seriously.
A Sneak Peek of The Outside
Now that you know all about the 2022 Wagoneer interior, we will let you know what we know about the exterior styling. Keep in mind, the brand has kept this new UV very well hidden from the public. So this is all based on press releases and prototypes.
The design team behind this vehicle completely reimagined the Wagoneer model. This is the modern version of the classic road-tripping vehicle. It has a completely new and unique silhouette with an Obsidian Black grille. If you're wondering, Obsidian is glass formed from molten lava. So when people compliment you by saying, "Your car is fire," they're almost right. The seven slots on the grille have finely-detailed latticework and LED lighting that looks, unlike any Jeep® vehicle you have seen before. On the bottom of both front doors, you'll see "Grand Wagoneer" written out with an American flag next to it. Sounds like the American Dream to us.
Hop on the Bandwagon in New York With South Shore CDJR
If you're like us, you can't contain your excitement for the new Wagoneer and Grand Wagoneer models. This car is truly a work of art and deserves a spot in your driveway. Although they aren't expected to hit dealerships until the Summer of 2021, we have good news. You can pre-order a Wagoneer lease with us ahead of time. That's right. Reserve your piece of brand history with us right here in New York. Give us a call! In the meantime, just keep dreaming of that crackling fireplace setting that you'll get to put on your entertainment screens.
Citation: Priddle, A. (2020, September 03). 2022 Grand Wagoneer Concept First Look: Worth the Wait? Retrieved January 13, 2021, from MotorTrend's 2022 Grand Wagoneer Concept First Look.
Contact Us