Jerr-Dan Commercial Vehicles In Long Island, New York

View Our Commercial Inventory
Ready to learn more about Jerr-Dan wrecker models and how this heavy equipment can make your projects easier? Get out of pinches faster and with greater ease by checking out our selection of wrecker options, work trucks, and commercial trucks on our site near Queens, NY.
These heavy-duty vehicles are made with jaw-dropping specifications that will make you eager to get to our lot and browse for your favorite today. While you're speaking with our team, inquire how you can get a customized work truck with just the right amount of performance power you need to complete your projects efficiently.
Our specialists are eager to help you weigh your commercial needs and choose a truly remarkable work truck, whether it's a wrecker or carrier.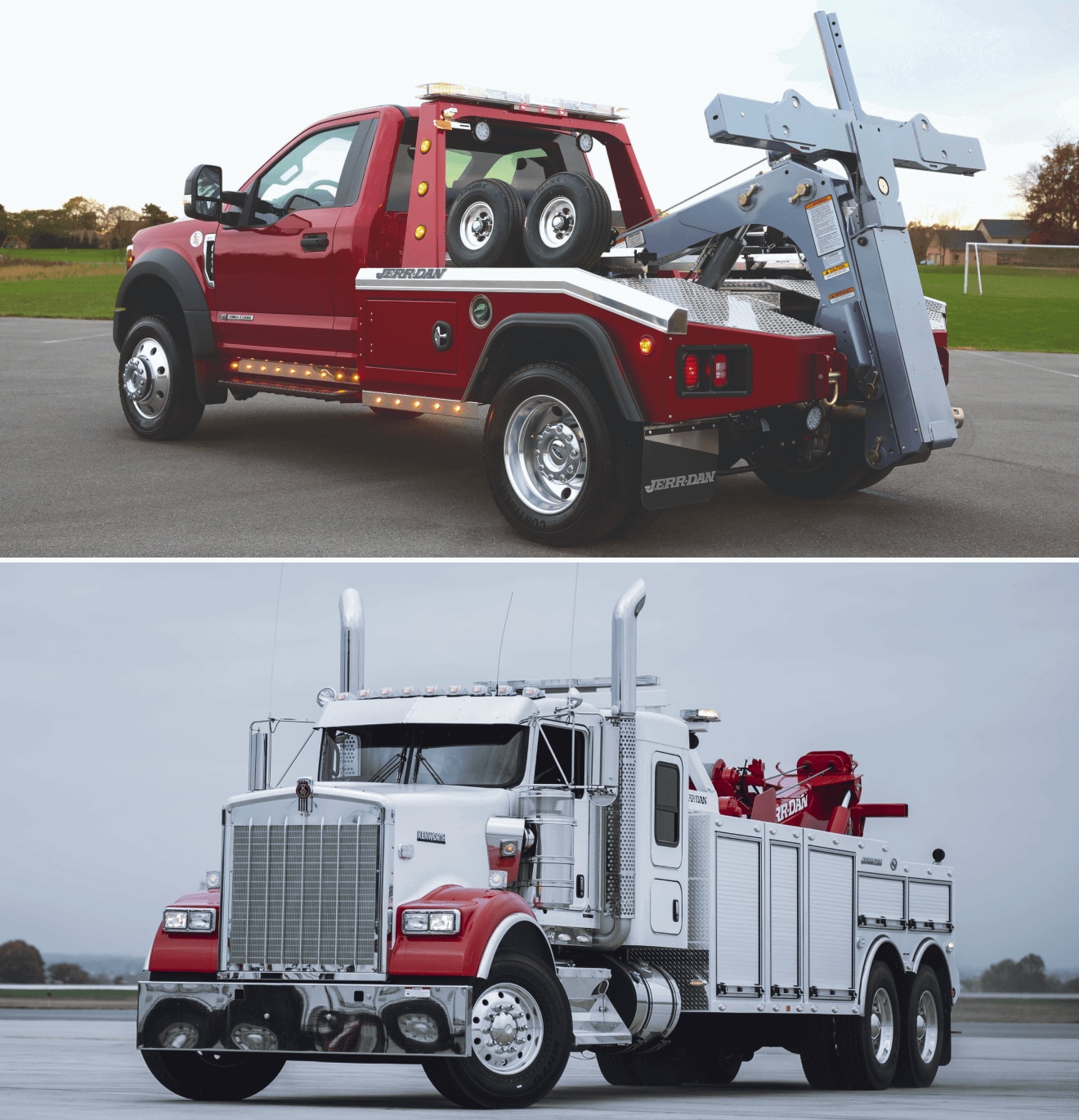 Jerr-Dan Trucks & Wrecker Vehicle Specifications
Jerr-Dan trucks and wreckers can carry an impressive amount and simplify nearly any project, and there's no secret why. Consider one of our light-duty Integrated and Independent wreckers if you need impressive everyday power.
The Integrated light-duty wrecker can boom 8,000 to 16,000 pounds, depending on the model, and winch up to 8,000 pounds. With a modular aluminum body, you can rest assured your Independent model will get the job done.
For more Jerr-Dan wrecker power, check out the Independent light-duty wrecker from our lot. This vehicle can boom 7,000 to 24,000 pounds, depending on the model and retraction degree, and has an underlift capacity of up to 4,000 pounds. This vehicle has a body made of high-strength steel you can rely on. If you need a heftier option than these, read on and check out our inventory for heavy-duty wreckers.
The Integrated heavy-duty wrecker can boom 50,000, 70,000, or 120,000 pounds and has a winch capacity of 25,000 to 50,000 pounds, depending on your configuration. The Independent heavy-duty wrecker offers similar specifications but allows you to boom up to 120,000 pounds and winch/wire-rope 35,000 or 50,000 pounds based on the model.
If you need even more power, ask our Jerr-Dan sales department about our Jerr-Dan Rollback model or a rotator, which can give you a 360-degree operational load chart and offers a torsion frame of 10,000,000 RBM.
Jerr-Dan Parts & Support
Let our location near Brooklyn, NY, allow you to get the Jerr-Dan support you need. We stock or can promptly get the necessary parts to repair, replace, or modify your wrecker or commercial truck for optimal performance. We know all about Jerr-Dan service and can help you get the most out of your machines.
Call or visit us today for help deciding what you need out of your wrecker, carrier, or other heavy machinery.

Schedule Your South Shore CDJR Visit Today
Make us your premier Jerr-Dan distributor. Whether you need to find a used truck dealer or a place to get the best work trucks available, our specialists can help you find something that suits your needs. Visit our location near Long Island, NY, to browse our commercial inventory to see if we have the perfect solution to get your job done.
Don't forget to inquire about our customized work trucks, which can help you outfit your truck with all the performance and specifications you want in one beast of a machine.
Frequently Asked Questions
What is the difference between a tow truck and a wrecker?
A tow truck is a standard vehicle that can help a car get where it needs to go when broken down or immobile. However, a wrecker typically includes a winch, which can help get to other immobile, impounded, or difficult-to-reach vehicles. Although a wrecker may have a scary name, it can help get to vehicles that tow trucks may not be able to reach.
How much weight can a wrecker tow?
The weight a wrecker can tow depends on the model, the size of the wrecker, and its intended purposes. Typically, wreckers can tow upwards of 7,000 pounds. Light-duty wreckers, like the Jerr-Dan Independent line of light-duty wreckers, can winch up to 8,000 pounds. Heavy-duty wreckers can sometimes winch up to 50,000 pounds.
What are big wreckers called?
There are big heavy-duty wreckers that can winch up to 50,000 pounds. Bigger still are the rotators, which include a 360-degree operational load chart and four stages in the underlift, all rated with different weight capacities. The stage four underlift can lift 56,500 pounds and includes different functions to help with large-scale projects.