Get 2022 JEEP® Wagoneer Lease Deals In New York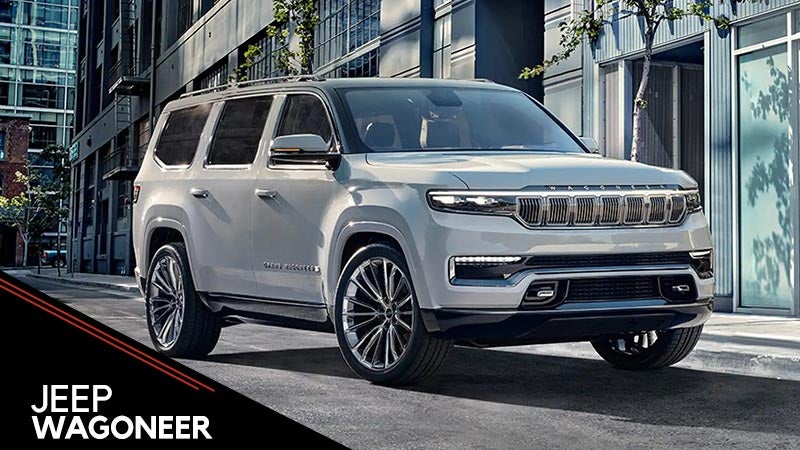 All New 2022 JEEP® Wagoneer
Low Monthly Payment
Low Down Payment
Average Lease Terms: 42 Months
Call For Pricing
The Jeep® brand is officially getting in on the full-size, three-row SUV game. The 2022 Jeep® Wagoneer is almost here, and while there are no confirmed prices for lease deals just yet, South Shore CDJR is going to be ready the moment they get released. This way, we can be your first choice for where to get 2022 Jeep Wagoneer lease deals before all of your friends. We're talking leases here, but if you're dying to know more about the specs and other details, you can get more information on the Jeep Wagoneer by clicking the link!
Why Should I Lease Instead of Buying?
The ultimate question when it comes to obtaining a new car is: Do you buy, or do you lease? While there are valid reasons that a person might want to embark on either journey, we're going to tell you some of the benefits that you'll get if you take advantage of our 2022 Jeep Wagoneer lease offers.
For starters, a lease is usually more flexible than financing. It depends on a lot of factors that can often be tailored to your driving needs, such as how many miles you typically drive in a year or what your financial situation is. There are different mileage packages and payment options that we can offer, so there is a much better likelihood that you'll end up with a lease agreement that is perfect for you.
When you get a 2022 Jeep Wagoneer lease, you also don't have to worry about depreciation. When you buy a new car outright, a lot of its value decreases the moment you drive it off the lot. But with a lease, you don't have to worry about that because the depreciation is commonly figured into the lease agreement upfront. While we're on the topic of value, you may or may not know that the monthly cost of leasing a vehicle is often lower than the monthly cost of financing. Plus, you have the opportunity to hop into a newer model in a couple of years after your lease agreement is over. This way, you can always experience the latest and greatest that Jeep® brand has to offer.
A Luxury JEEP® UV Lease
You'll often see the 2022 Wagoneer considered as an SUV, but many people are simply going with the term utility vehicle, or UV, given this vehicle's ostensible luxury status. Other SUVs might feel a little less than special at times, but looking at leaked images of the 2022 Jeep® Wagoneer confirms our suspicions that the utility vehicle will be a class above the rest. Now, getting a 2022 Jeep Wagoneer lease takes on another benefit: getting you a luxury utility vehicle without paying hundreds of thousands of dollars overhead.
The Competition
Now that you know that the 2022 Jeep Wagoneer is going to be the first Jeep® brand SUV with three rows standard, let's talk a little bit about what kinds of vehicles it will be competing against in that market. It will find robust competition with the likes of the Ford Expedition, Chevy Tahoe, Hyundai Palisade, and the GMC Yukon. It will also have to overcome the incredible popularity of the Volkswagen Cars mid-size SUV lineup.
Compared to this competition, however, Jeep vehicles have consistently out-performed when it comes to off-roading. If you get a 2022 Jeep® Wagoneer lease with the expectation that you'll be able to handle conditions that aren't confined to the most beautiful, clear, sunny days, then you'll likely be very impressed with the Wagoneer as opposed to other brands that don't have quite as impressive a reputation as the Jeep® brand does with off-roading and handling.
Pre-Order a JEEP® Wagoneer Lease With Us
As we mentioned, the lease offers haven't officially rolled out yet. But, we want to get you your 2022 Jeep Wagoneer lease ahead of the rest. Because of this, we invite you to call us and pre-order your 2022 Jeep Wagoneer lease, so you can be one of the first, most enviable Wagoneer drivers on the roads. We'll be waiting patiently by the phones for your call!
Pre-Order the All New 2022 Jeep Wagoneer and Jeep Grand Wagoneer