The 2022 Wagoneer & Grand Wagoneer Are Coming. What's Your Dream?

Somewhere out there down a sloping, two-lane road across the plane of our hearts and into the Sierras of our memories, is a dream. A dream where, as children, we looked out across a vast expanse to find... The expanse of time. And here you stand. Today. Connecting that moment to this one. How close are you? Did you make it, or are you still on your way? Like you, the 2022 Wagoneer comes from another time to take on the modern world without excuses. The American Dream has never been stronger, and the iconic representative of that dream has never been more capable. More refined. More distinguished. But are we talking about the vehicle, or are we talking about you? Scroll below to find out all the details you'll need to claim yours!
The Release
Wagoneer Release Date - Remember those summer memories as vivid as the color-matched shag carpeting in your parents' Wagoneer ? The summer break of this year will hold another special memory for you and your family. Find out all the details of when you can expect to get your hands on the newest member of your family.
American Luxury Is Redefined
---
Some of you may remember those summers in upstate New York. The lakes. The pines. The roadside general store with the endless ice chest of frozen pops. The twisting mountain roads and the steep gravel driveways that led to your view of the world. The Wagoneer was there. With world-renowned capability wrapped up in charming design cues, everything was accessible. Everything was thought of. Luxury meant having the ability to do it all. The 2022 Wagoneer and 2022 Grand Wagoneer pick up where the original left off and dazzles the modern journeyman with exquisite features that you won't find anywhere else. Here are some of the highlights: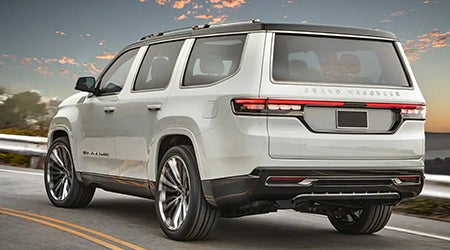 The Wagoneer Interior - Treat yourself and your passengers to a jaw-dropping cabin experience every time the impressive acoustic-absorbing doors that are wide open to welcome you. With distinctive heritage badgework, you'll know exactly what's giving you confidence for the road ahead. With over an astonishing 65" of digital displays and connectivity, you will know that you are in a car of the future that's been designed to exhilarate the senses today.
The Wagoneer Price - Remember those pennies you were told to save for a rainy day? All-weather capability and luxury are here. The time has come for you to cash in some of your allowance and get what you've always wanted. The 2022 Wagoneer and 2022 Grand Wagoneer will offer something for everyone, leaving enough change left over for that roadside ice cream you also craved as a kid.
Wagoneer & Grand Wagoneer Lease Info
The Jeep® brand is officially getting in on the full-size, three-row SUV game. The 2022 Wagoneer and Grand Wagoneer arealmost here, and while there are no confirmed prices for lease deals just yet, South Shore CDJR is going to be ready the moment they get released. This way, we can be your first choice for where to get 2022 Wagoneer or Grand Wagoneer lease deals before all of your friends. We're talking leases here, but if you're dying to know more about the specs and other details, you can get more information on the Wagoneer lease here!
Let South Shore Be Your North Star in New York
South Shore CDJR is the preeminent destination for all things Jeep® SUV related. Located conveniently in Long Island just east of JFK, we are proud to cater to the needs of drivers looking for distinctive luxury vehicles with legendary go-anywhere capabilities. Our sales consultants will take you through from start to finish. They'll answer all your questions, ensure all requirements are met, assist you with your finance application, set up your insurance, and deliver your vehicle right to your doorstep. Our customers have been returning to us for generations, and we take great pride in knowing that our best advertising is your positive experience. Our commitment to you extends beyond the sale, and you'll love the services that we offer to make your ownership and maintenance experiences much more convenient. Make sure to ask your dedicated specialist about the ways that we go the extra mile for you. This is the vehicle that will have the whole country talking, and you can be one of the first to bring it home. The American dream is out there. Let your 2022 Wagoneer and Grand Wagoneer take you there.