RAM ProMaster Cargo Van Lease Deals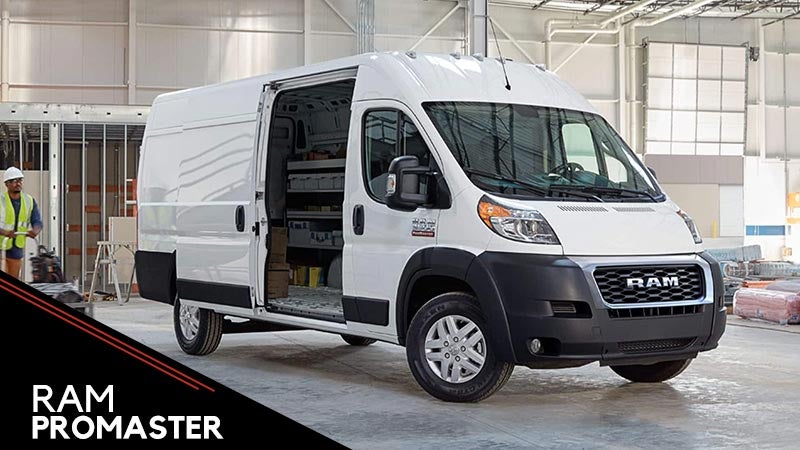 2021 RAM ProMaster Cargo Van
Low monthly payments
Average Lease Terms: 36 months
Low down payment
No security deposit required.
Tax, title and license extra.
To make the most of life, a lot of people near Manhattan have taken to creating and running their own businesses to make money and be their own boss. If you're one of these people, or if you work for any other business in Long Island, and you need to haul around a decent amount of cargo or equipment, South Shore CDJR has RAM ProMaster lease deals for you. There are a lot of options out there for your hauling needs. But, the RAM ProMaster is the best one for you. Check out our 2021 Mercedes Sprinter vs. Ram ProMaster comparison to get into the nitty-gritty on how a RAM outperforms every time. For now, peruse our leases and learn more about this delivery van lease below.
View Inventory
RAM ProMaster Configurations (With Explanations)
When you're getting a cargo van lease, something you're going to want (besides the obvious - space) is options. Not everyone needs to haul the same type of thing at the same frequency as everyone else. That's why your RAM ProMaster lease can come in one of four unique configurations that adapt to your needs.
RAM ProMaster Cargo Van
RAM ProMaster Window Van
RAM ProMaster Chassis Cab
RAM ProMaster Cutaway
Cargo Vans come with a rear door as well as a sliding side door. These vans also don't have windows. Why? This is usually to make it easier for businesses to do a custom paint job on the sides of their vans to promote their business.
Window Vans are very similar to cargo vans except for the fact that they have windows, of course! The cargo height and length are the same as a Cargo Van, as are its dimensions concerning head, shoulder, and legroom. However, it also offers a passenger double seat, sidewall cargo tie-down rings, and a cargo net.
Cutaway Vans are what you usually see as ambulances and school buses on the road. They don't have a built-in wall that separates the passenger space from the rest of the vehicle. This can offer easier access to the cargo area.
Chassis Cab Vans come standard without a rear wall. These are great for businesses working in lawn care, agriculture, electrical services, construction, and other businesses where you would need extra flatbed-like space. Unlike the Cutaway Van, this configuration offers a passenger double seat. So, if you're bringing a co-worker along for the ride, this one will suit you well.
Lease a Cargo Van for Your Business
When you get a RAM ProMaster lease, of course you're going to get enough power to haul everything you can throw at it (or in it). Your business will be booming after you see what all this cargo van can do for you. Each configuration comes standard with a 3.6L V6 engine with VVT paired to a 6-speed automatic transmission. The Window Van and Cargo Van come with a Class IV receiver hitch and heavy-duty suspension. Each configuration also has a 95 amp battery, auxiliary power connector, and a 220-amp alternator. The horsepower on all configurations clocks in at 280 @ 6,400RPM with the torque reaching up to 260 pound-feet @ 4,400RPM.
Need a little more info about our RAM ProMaster lease? Check below to find the answers to common questions asked by people just like you!
Frequently Asked Questions
There can be a few unknowns when shopping for a commercial vehicle lease anywhere else. However, here at South Shore CDJR, we want you to be able to make an informed decision that is the most beneficial to you and your needs. Read through all of these FAQs below, then give us a call if there's anything else you'd like us to go over with you!
What cargo space does a RAM ProMaster have?
On the 3500, you can reach up to 303.7 cubic feet of cargo space. No matter how much cargo you have in your RAM ProMaster, you can expect stellar performance and first-rate handling thanks to the class-exclusive front-wheel-drive system that gives a best-in-class, 36-foot turning diameter with great traction no matter what condition you're working in.
What is the towing capacity of a RAM Promaster?
The max towing capacity can reach up to 6,910 pounds when your RAM ProMaster is properly equipped. Your payload capacity can hit upwards of 4,680 pounds, too. Thanks to its incredibly powerful engine and advanced suspension system, you can haul almost anything and know that whatever you're towing is going to be in safe hands with your RAM ProMaster.
Is it better to lease or finance a commercial van?
The answer to this question depends on a lot of different variables. What is your financial situation? Do you want more flexibility with your commercial vehicle? How long do you need this vehicle? We think leasing is a great option for people who value the ability to try out different vehicles throughout the years to see what works best for their business needs.
Lease a RAM ProMaster With South Shore CDJR
You're working hard here in New York, so you should get a commercial vehicle that works just as hard as you do. That's why we make it easy to get a RAM ProMaster vans for sale near Manhattan (and at a great lease price). When you visit us, you'll experience amazing service and transparency throughout the leasing process. If you want to know more about these amazing commercial vehicles, call us or visit us, and we'll be happy to give you all the details.