Mercedes Sprinter vs ProMaster Cargo Van
---

In New York, your business can't stop. You need capability, versatility, and dependability—all hallmark traits of the proven ProMaster line of vehicles. In the world of high-capacity utility vans, there aren't many competitors for the ProMaster lineup, with the exception of maybe two: The Mercedes Sprinter and the Ford Transit. To help with research, you can check out our Ford Transit VS RAM Promaster article here. With a proud tradition of being a European luxury marque, it shouldn't be a surprise that Mercedes-Benz is going to throw the best it has in terms of luxury into the fray with the hopes of winning you over. So before we dive deep into the differences between the two, the main difference between the Mercedes Sprinter and Ram ProMaster is really a clash between luxury vs. utility. Are you going to the casino in Atlantic City? Or are you going to work in Long Island and need capability?
2021 Mercedes Sprinter 1500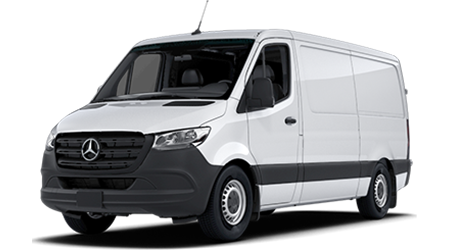 | | |
| --- | --- |
| Price: | $36,355 |
| Engine: | 2.0L I-4 |
| Horsepower: | 188-hp @ 5000 rpm |
| 0-60: | 12.4 seconds |
| Torque: | 258 lb-ft |
| Cargo Volume: | 319.0 cubic feet |
| Towing Capacity: | 5,000 lbs. |
| Payload: | 3854 lbs. |
| | |
2021 RAM ProMaster 1500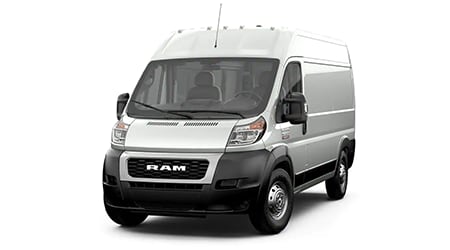 | | |
| --- | --- |
| Price: | $30,440 |
| Engine: | 3.6L V6 |
| Horsepower: | 280-hp @ 6,400 rpm |
| 0-60: | 8.1 seconds |
| Torque: | 260 lb-ft |
| Cargo Volume: | 259.2 cubic feet - 420.2 cubic feet |
| Towing Capacity: | 6910 lbs. |
| Payload: | 4680 lbs. |
| Shop Model: | Shop RAM Commercial Vehicles |
Do I Need a Mercedes Sprinter in Long Island
---
Yeah, we can launch right into a comparison of these vehicles to see how they stack up. But that's kind of boring. So before we even get to that, we've got a few, quick needs-assessment questions for you that might just save you some time:
Do you love "Best-In-Class" standard cargo height?1
Do you love "Best-In-Class" max cargo width?1
Do you love "Best-In-Class" payload?1
Do you love "Best-In-Class" loading height?1
Do you love "Best-In-Class" turning radius?1
If you've answered "yes" to any of these questions, you can skip the rest and just come and get your ready-to-work ProMaster van. Not to mention the fact that it ups the ante with a "Class-Exclusive" FWD system with proven traction in all conditions. This helps to keep the cost of ownership lower with fewer parts to maintain. If you're still considering a Mercedes Sprinter, Long Island might not be the place. This is where New Yorkers get work done.
The Mercedes Sprinter vs. Ram ProMaster: A Battle Of Capabilities
---
When you think of capability, Mercedes-Benz has the Unimog, the legendary personnel carrier that can traverse swamps, mountains, deserts, and lakes. The Mercedes-Benz Sprinter can nod to this legendary history, but a Unimog, it is not. And quite frankly, we've got the PowerWagon, but who's counting? No matter what engine you choose for the Mercedes Benz Sprinter, you're stuck at 188HP. That's right. In either the 2.0L petrol 4cyl or the 3.0L V6 turbodiesel, 188 horses are all you get. The Ram ProMaster gives you a 3.6L V6 with 280HP. Sprinter vs ProMaster power? Well. That's an easy one.
The entry point Mercedes Benz Sprinter has a tow rating of about 5000-lbs. The RAM ProMaster gives you just shy of 7000-lbs. If you want more with the Mercedes-Benz, you're going to have to pay a lot for it, and the Mercedes Sprinter's highest tow rating is 7500lbs. In this case, you're going to have to ask yourself what is of value to you from a bang for your buck perspective. The Mercedes-Benz Sprinter trots to 60mph in just under 11 seconds. The RAM ProMaster means business and gets you there in a smidge over 8 seconds. Sprinter vs ProMaster capability? Well, the answer is pretty obvious to us.
Let's talk about space. You need a high-capacity cargo van. Are you going to climb Mt. Everest with a Louis Vuitton clutch, or are you going to use a 35L Trekking Pack because you actually need to bring things with you because your life depends on it? The Mercedes Benz Sprinter offers a stylishly cute 319 cubic feet worth of storage, where the ProMaster gets you to the summit with a max 439 cubic feet of space. And let's face it. We all know that we can end up with even more stuff at the end of the workday when tomorrow's needs change. Sprinter vs ProMaster space? Let's leave the Sprinter at base camp and climb with your ProMaster.
South Shore CDJR Truck Center Has Even More Answers for You
---
Our business services can't be beaten. We offer custom upfitting, personal account enhancements, and incredible fleet management services. We have the tools that will help you monitor your operations, whether you're the privateer or national fleet manager. RAM knows how to get work done. And we're going to help you increase your ROI by showing you how to lower the cost of your operations. We hope that you've found this brief comparison helpful, and we trust that you'll enjoy browsing our entire inventory of RAM ProMaster vans for sale right here, near Manhattan. It's time to get to work, so you can go to dinner on 5th Avenue later.
---
Disclaimers:
1Class is based on the large commercial van segment.
---