Custom JEEP® In Inwood, NY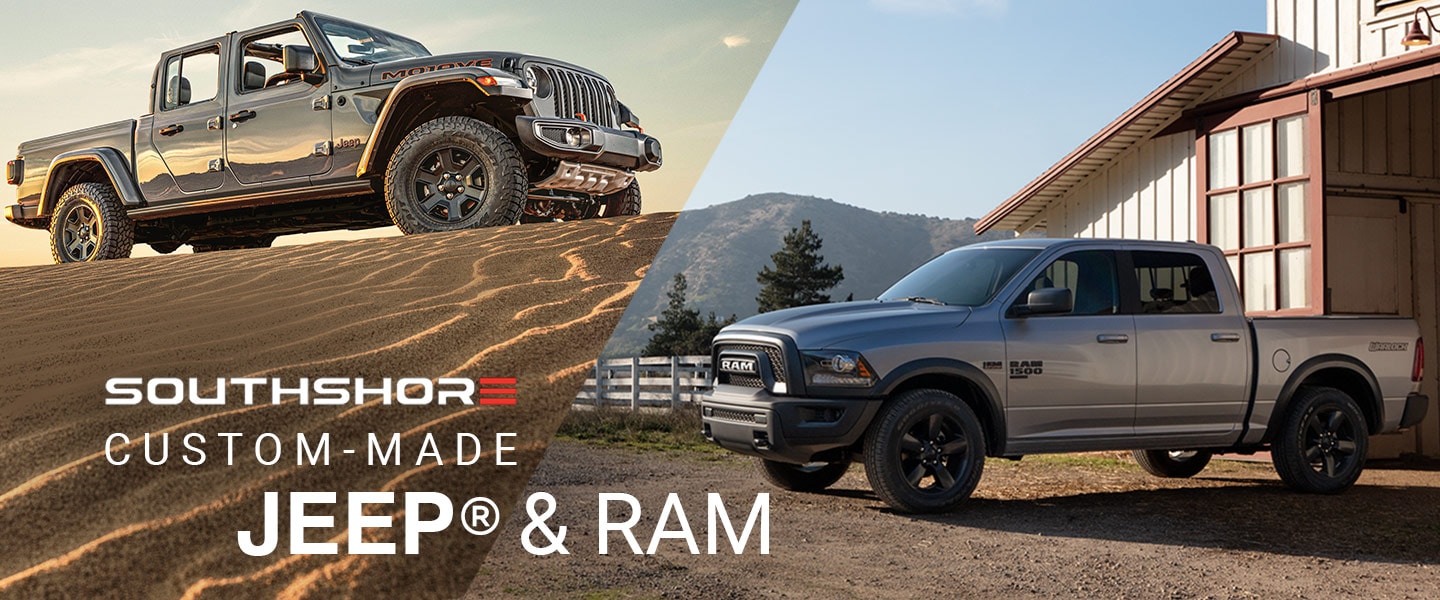 Driving a custom built Jeep® vehicle means that you live your life on your terms. You've got your own ideas. Your own plans. And you need a vehicle that can be ready to handle it all on a moment's notice. South Shore CDJR gets it. If you live anywhere near Five Towns we invite you down to see what we're all about. We've got a sales floor and service center packed with brand enthusiasts that know how to make any custom built Jeep® vehicle a reality.
Read on for some more information or check out our new Jeep® vehicles for sale to find your blank canvas.
JEEP® Dealership on Long Island, NY: Customization Options
South Shore Chrysler Dodge Jeep® Ram is the top Jeep® dealership serving Inwood residents and the Five Towns area. We have a parts department with everything you need to make your Jeep® stand out from the pack. With various mechanical tools and state-of-the-art technology at our disposal, we're here to give your Jeep® a little boost. Want some extra storage? Looking to improve your Wrangler's off-roading performance? Whatever you're in the market for, we're here to make your dreams a reality.

Customize Your Jeep® at South Shore
Unlike other dealerships who simply sell you a car and give you the boot, we sell you a Jeep® filled with endless customization opportunities. If you purchase a new Jeep® from us, you'll have the opportunity to upgrade the look and functionality of the vehicle.
Cold Air Intake: All Jeep® vehicles - whether they are a Wrangler or Grand Cherokee - come with a factory-installed cold air intake system. However, regulations place a cap on how much power a cold air intake system can produce. You're free to upgrade. Adding a new cold air intake system will generate increased power and efficiency, as well as a louder rumble.
Custom Rims: Adding flourishes to the exterior of your vehicle is one way to make it your own. Jeep® vehicles are some of the most common vehicles on the roads today. Why not set yourself apart with a glistening set of custom rims? You will look cool and fashionable as you drive around Long Island and the Boroughs that surround it.
A Performance Chip: As with the cold air intake system, the performance chip system must be dialed back when any Jeep® is produced in the factory. However, you can add a better one if you wish. Performance chips increase the efficiency and power of your vehicle, which is especially beneficial if you plan on doing off-roading or hauling heavy loads.
Aftermarket Exhaust: If you're searching for a louder, more aggressive sound from your new Jeep®, then an aftermarket exhaust is the way to go. But custom exhausts don't just manifests noise, they're also effective at generating more power.
Grille Guard: If you're planning on driving your Jeep® off road, then a custom grille guard is a must own. It will protect the front of your Jeep® from debris and other damaging materials.
Rugged and High-Performance Tires: Part of the thrill of owning a Jeep® is it can hold its own off the paved roads. While standard Jeep® tires get the job done, you have the option of upgrading. Ask you South Shore Chrysler Dodge Jeep® Ram sales team member about your upgrade options.
Drive a Tricked-Out Dodge Ram 2500 Off Our Lot
Looking to customize your new Ram before you hit the road? We'll take care of that too. Like many of our customers, you may be using your Ram for commercial purposes. If so, we'll add decals, logos, company names, and more. Beyond incorporating your brand identity into your Ram 1500 or 2500, you have the option to add a variety of performance-related upgrades to your truck. From boosting your Ram's power with high-performance cold air intake systems to adding aftermarket brakes for superior performance, South Shore Chrysler Dodge Jeep® Ram has what you need. Whatever you require to get your new Ram truck business-ready, our parts team has it. Before you drive the truck off the lot, ask your sales team member about what's available.
Trust Our Service and Parts Professionals to Get the Job Done
Purchasing a new Jeep® or Ram should be exciting. While we're firm believers in the unparalleled quality of Jeep® and Ram's offerings, we also understand some customers need more. Our parts and services departments are fully staffed with dedicated professionals who love working on cars. Our services to you don't end when you drive off the lot either. We're here when things stop running as they should. Given the level of expertise our team possesses, you can trust us to find whatever is wrong and fix it. We're professionally trained to work on and repair your Jeep® or Ram. If you're thinking about buying a new Jeep® or Ram, don't forget to customize your new ride. We can also add new flourishes to an existing vehicle.
We Have a Dedicated Finance Team Standing By
In addition to our reputation for providing superior customization alternatives to our customers, South Shore Chrysler Jeep® Dodge Ram is also well known throughout Long Island and the surrounding Five Towns area for our finance team's dedication to customer service. We understand the expense of purchasing and customizing a new Jeep or Ram vehicle, and we want to ensure you get what you want.
South Shore CDJR is Your Custom JEEP® Car Dealer
From the moment you see our state-of-the-art facility to the time you drive off in your custom built Jeep® vehicle, you'll know that we're the only place that can make your dreams a reality. We've got techs who have seen and done it all. From Hunter Mountain to the Rubicon, they have put their own Jeep® vehicles to the test. You can count on their experience on the trail to help you make the most awesome Jeep® model for your off-road plans.
Your Custom JEEP® for Sale
Take a look at any model in the Jeep® family lineup. If you can think it up, we can do it. Want a luxurious custom built Jeep® SUV? Why not take on a Jeep® Grand Cherokee? We've got a line on all the factory kits to lift, lock, and launch that thing down the road ready for you to take on whatever is in your sights. Need something a bit more subtle? We can take a Jeep® Renegade and add on all of the lifestyle accessories that you need to make it out to the beach & back before Monday can even think of finding you.
Your Custom JEEP® Wrangler for Sale near Long Island
If you're looking to make the most recognizable statement on the trail, what could be better than the iconic Jeep® Wrangler? As the great-grandchild of the WWII-proven workhorse, today's Jeep® Wrangler can go anywhere and do many things that the original couldn't. Go subtle with a 2" lift and a set of 33s. You'll be ready to run just about anything in the North East while maintaining composure to blast down the LIE. Want to go big? We Can help there, too. Let's sit down and discuss your goals so that we can dial in the equipment that will make it happen. Whatever you need, you'll find it here.
Why Drive a Custom JEEP® Wrangler for Sale in NY
There's many reasons why you'd want a custom built Jeep® vehicle for life in Inwood & beyond. Maybe the most important reason is visibility. See over anything else in traffic & enjoy enhanced safety on the road. The next reason is for confident driving in all conditions. When old man winter shuts things down and everyone else panics, there will be nothing stopping you from getting where you need to go. Another reason: versatility. Get to work. Get to grandma's house. Get lost. Get home. Any off-roader will tell you that the sign of a great truck isn't necessarily about the one that gets you out there. It's about the one that can bring you back. Your Jeep® Wrangler is battle proven to do just that.
Custom Built JEEP® FAQs
There are as many questions about custom built Jeep® SUVs as there are people on this planet. Here are some of the top queries we get down here at South Shore:
Can you get a custom Jeep® vehicle?
You sure can. We can help you configure yours online from the factory or we can take any model that we have and outfit it for the adventures you have in mind.
How long does it take to order a custom Jeep® model?
How long does it take to order or how long does it take to build? We can have your custom built Jeep® SUV or truck configured in minutes. Depending on your specifications, project completion can take anywhere from a few days to 8 weeks or more in some cases.
What can you customize on a Jeep® vehicle?
Everything. For most people, the usual suspects include armor, safety devices, recover, lifts, tires, lighting, and graphics. Start with one of our Jeep® Grand Cherokee lease deals to make sure you're saving some money, then use the rest to build a monster.
Can you order a custom Jeep® vehicle color?
There aren't any custom colors from the factory in the typical sense. However, what more do you need than awesome color options like Chief, Nacho, & Snazzberry (among others)?
South Shore CDJR Makes it Happen
We're Jeep® vehicle enthusiasts just like you. We know what it means to want something that's more than just a car. It's an extension of you. If you can't wait for something from the factory, think about grabbing one of our used Jeep® vehicles for sale. That's a great way to save some money and get out there in one of the latest models. Whatever your plans are, we can help. Your adventure starts at South Shore CDJR.
Expert Service Technicians
Whatever you're in the market for, our service department is prepped and ready to create the Jeep® or RAM of your dreams. We've got all the tools we need... and we definitely have the skills. With service technicians professionally trained to work on Jeep® and RAM vehicles, you can't go wrong with South Shore. We promise not to let you down.
If you're thinking about customizing your Jeep®, feel free to visit or contact our Inwood area dealership serving Jamaica and all of Queens at (888) 217-0742.