Chrysler Pacifica Family Safety Rating Overview

When you need a vehicle that works to protect your family, the Chrysler Pacifica safety rating stands above the rest. This IIHS Top Safety Pick+ offers advanced features from design to tech, so you and your passengers can ride with reassurance. Chrysler Pacifica van safety is not something to put on the back burner. Take control of your safety and feel at ease in a Chrysler Pacifica.
Chrysler Pacifica Safety Precautions
Watch out for the road, pay attention to road signs, and look out for passengers. That sounds like the gist of driving safely in your vehicle, right? Well, there's a lot more to it than that, and the Chrysler Pacifica safety precautions built into this vehicle offer more protection than just on the surface. Explore the technology and features that give you a hand when you're behind the wheel.
The best-in-class1 safety features in the Chrysler Pacifica support your driving from the inside out. Have a second pair of eyes watching the road in front of you with Full-Speed Forward Collision Warning with Active Braking, and stay at a safe pace in heavy traffic or on long drives with Adaptive Cruise Control with Stop and Go. LaneSense lane departure warning keeps you in line, and the Blind Spot Monitoring System watches out where you can't.
These are only some of the convenient features that your Chrysler Pacifica can use to take precautions on the road. Most accidents are avoidable. Let the Chrysler Pacifica help you avoid danger when you can.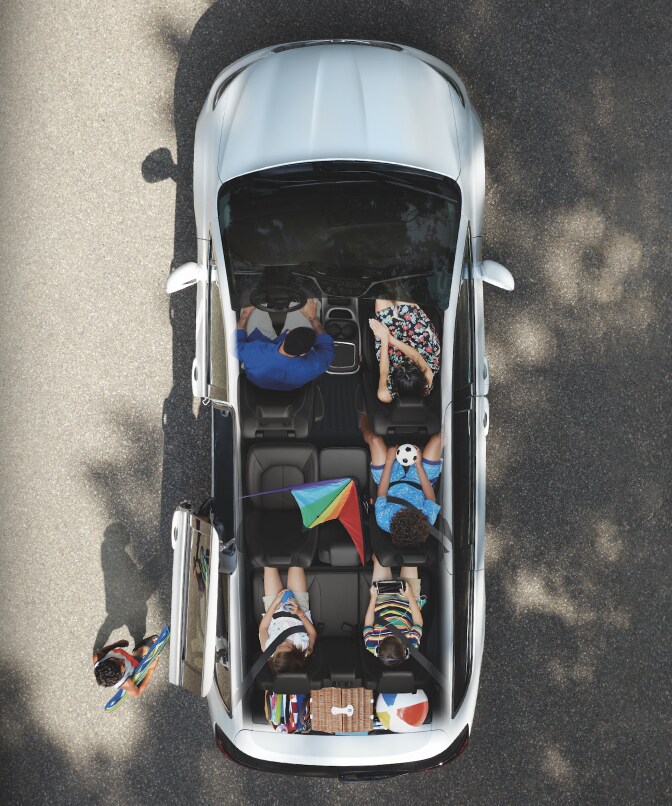 Chrysler Pacifica Passenger Safety Features
For first-time parents, vehicle safety is the most important part of choosing a vehicle. Fortunately, Chrysler Pacifica passenger safety is a crucial focus of this minivan's design. The Pacifica's construction has a strong base and several airbags positioned in suitable places to protect the driver and passengers in a collision. Seat up to seven passengers in this vehicle and have several child seat anchors in the rear of the cabin for your little ones.
Passenger safety goes further than seatbelts and a strong frame. The Chrysler Pacifica also comes with the Chrysler Air Filtration System. This standard feature filters up to 85% of pollutants and particles in the air flowing through your vehicle's cabin. Dust, smoke, droplets, and aerosols don't stand a chance in this van.
This feature is standard on all the models in our new Chrysler Pacifica inventory. Ensure everyone on the road can see your vehicle with the standard LED headlamps and taillamps, helping protect everyone from accidents at any angle and at any time.
Have Confidence in the High Chrysler Pacifica Safety Rating
Protect yourself, your family, and your friends in a Chrysler Pacifica. This minivan is here to give you confidence behind the wheel with less worry about what's happening outside the vehicle. The Chrysler Pacifica also comes in a hybrid option, but don't fret. The Chrysler Pacifica Hybrid safety rating is also five stars here, too. Check out this fuel-efficient and equally incredible van in our Chrysler Pacifica Hybrid inventory.
Stop by our dealership to learn more about staying safe and enjoying the peace of mind the Chrysler Pacifica safety rating can bring you and your family. Whether you shop for a new model or explore our used Chrysler Pacifica inventory, you're bound to find a vehicle that keeps your safety in mind. Speak with our team if you have more questions, or check out our frequently asked questions below.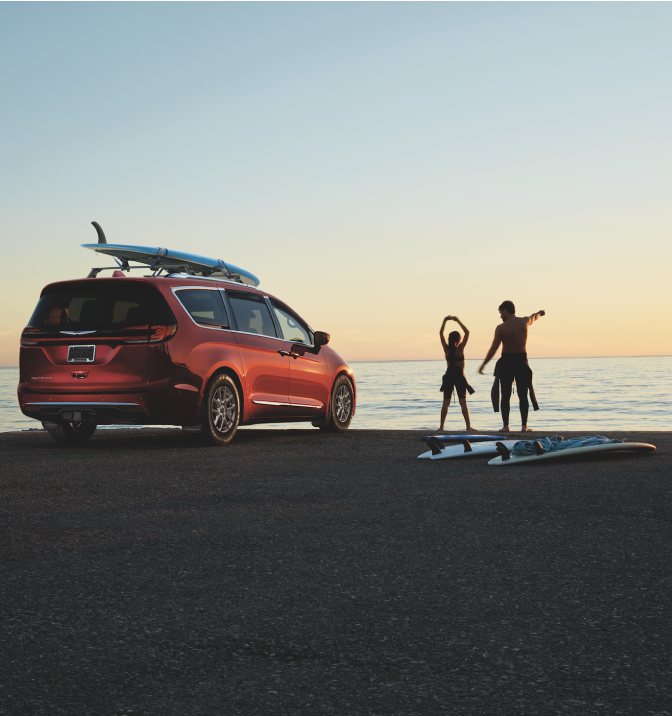 Frequently Asked Questions
Does the Chrysler Pacifica have a good safety rating?
When it comes to staying safe, you can feel at ease in the Chrysler Pacifica. This minivan is a 2022 IIHS Top Safety Pick+. Its construction, restraints, and crash prevention are all rated at the highest level for models after 2020. So, you can have peace of mind knowing your Chrysler Pacifica is designed to protect you and your passengers or cargo.
Is the Chrysler Pacifica safe for families?
Many people see the Chrysler Pacifica as one of the best family vehicles, not only for its size and seating capacity but also for its safety features. The new Chrysler Pacifica has the most standard safety and security features of vehicles in its class.1 You can drive confidently in a Chrysler Pacifica and know your Pacifica is working hard to protect your family on the road.
Why is vehicle safety important?
Vehicle safety is crucial to being a responsible driver on and off the road. When you drive in an unsafe vehicle, you're putting yourself, your passengers, and other drivers in danger. Vehicle safety can be as big as choosing a model that has a sturdy and strong construction or as small as making sure you're putting on your seatbelt. Take safety seriously so that everyone can enjoy the road.
---
1Based on standard equipment features and the FCA US LLC Premium Minivan Segment. Competitor information based upon current available manufacturer specifications.