Who We Are at South Shore
We are located at 550 Burnside Ave, Inwood, NY 11096. Here, we are always looking for bright, motivated, and energetic professionals to add to our world-class team. Our dealership works as a team, and our team strives to be the best for our customers. If you have an interest in automotive and a desire to develop a career in the industry, this is the place for you!
At South Shore Chrysler Dodge Jeep Ram, we are committed to an environment where the customer is always treated with respect and dignity. Our employees are our most valuable resource and growth is encouraged through diligence, teamwork & consistency. Above all, there is the highest standard of honesty and integrity when conducting business.
Do you feel that your skills would be a valuable asset to our customers? Then we want to get to know you!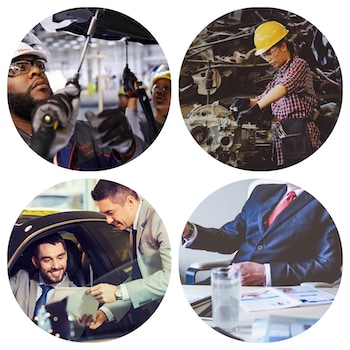 South Shore CDJR Community Involvement
Mommy Poppins Event for Inwood Families
South Shore CDJR is a proud host of the Operation KidSafe Safety Event for Inwood parents. Like many of our "Mommy Poppins" gatherings, the event is in place to guarantee your childen's safety. Children are photographed and fingerprinted, and the parents are sent home with a Bio document (the only record created during the visit). Parents are instructed to turn the document over to law enforcement.
Though difficult to admit, kids sometimes go missing; it's wise to be prepared. Emergency situations-as much as we do all in power to avoid them-do arise. South Shore wants to ensure that you're ready for the worst. This event is completely free of charge; it's the least we can do to show our thanks to all of our loyal customers.
Safety Tips
At this event, we do not simply fingerprint your children and give you the boot. We provide essential advice for keeping your kids safe. From babies and toddlers to young adolescents, our advice covers a broad spectrum. Come in for a biodocument...and a little lesson. You can never know too much about safety.
It's important to note that-while this event serves a very serious purpose-we keep it fun for the kids. Just look at the photos above and below. We want your children to enjoy their stay. While you're taking care of business, they get to be kids...freely in a safe environment. From coloring in pictures of various cars to choosing temporary tattoos and playing with Lego sets, the event is always fun for the kids!
Current Openings
Ready to start your career?
Administrative
1 Open Jobs
Technical/Skilled Labor
5 Open Jobs
Accounting/Finance
No Open Jobs